Tabasco Slots
You might think it strange to dedicate a slot machine to that little red bottle of sauce. Indeed, it is a bit strange, but that hasn't stopped scores of slot lovers from flocking to this extremely popular hot sauce themed game. In fact, the Tabasco slot is so popular that it has spawned a few different varieties, each one better than the last.
The original Tabasco slot machine was a basic 5 reel, 12-payline game. Though it was simple, it offered players plenty of fun and chances to bring in loads of cash as the jackpot was a very respectable 200,000 coins. In fact, this generous jackpot was a major reason behind its success. Since the original, Las Vegas casinos have introduced a new line of Tabasco themed slots known as Chez Tabasco slot machines. These 5 reel, 20-payline games are a bit more sophisticated than their predecessors in that they offer a maximum payout of 400,000 coins as well as multipliers and free spins in which payouts were multiplied.
If you like the hot and spicy theme of these land-based slot machines then you'll be happy to know that there are plenty of online slots that feature similar chili themes. Check out one or all of the following online slots:
Red Chili Hunter
As the name suggests, this 3 reel, five-payline slot will have you searching for the red chilies. These spicy little peppers are the highest paying symbol in the game and three of them across line five will have players collecting the top payout of the game worth 6,000 coins. There are also BARS, Cactus, and Sombreros to be spun in for plenty of big money wins.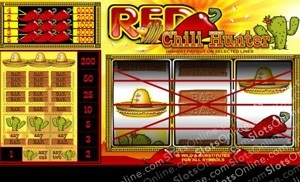 Check out the full Red Chili Hunter review or start playing at Rome Casino.
Hot Chilis
If you're searching for spice, this 3 reel, single payline game may have more than you can handle. Players will attempt to spin in such symbols as the Hot Chilis logo complete with a red faced chili fan, green and red chilies, bells, BARS, and cherries. The game offers a top payout of 1,600 coins.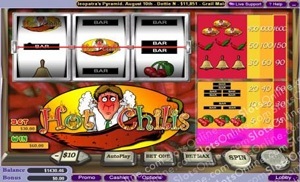 Check out the full Hot Chilis review or start playing at Crazy Slots.
Tres Amigos
This 3 reel game features more of a Mexico theme, but there is no shortage of the spicy little peppers that have created such a buzz in the Tabasco slots. In fact, players can line up three red or green chilies for a substantial payout. The game also features such symbols as cactus, guitars, and the three amigos that happen to hold a top payout worth 2,500 coins.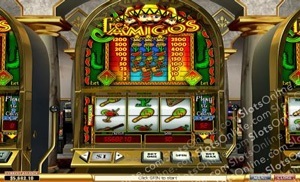 Check out the full Tres Amigos review or start playing at Golden Palace.


Click here for a full list of online slots in order of theme