Beverly Hillbillies
This is a 5 reel, 25-payline video penny slot that has attracted plenty of casino goers, which has quickly made it one of the most popular games in land-based casinos. It features a progressive jackpot and plays catchy banjo riffs every time the reels are spun.
Based on the classic TV series of the same name, this slot machine offers reels filled with the whole cast of characters. Players will attempt to line up such symbols as Jethro, the hound dog, JD Clampett, and Granny Clampett to name a few. It features a top payout worth. The game also features two second screen bonus games. The first of these is called the Jethro Hunting bonus, and it will have players taking on the role of Jethro hunting for dinner through the woods. You'll have to shoot your targets with his bow and arrow. The second of these bonus games is the Cash for Crude bonus round in which you'll take on the role of Jed trying to strike for oil. Hit the right spot and you'll win plenty in bonus cash.
Fans of this land-based slot machine can rejoice because there are a couple of different online slots with similar themes that you can play any time from the comfort of home. These include:
Hillbillies
This is a 5 reel, 20-payline video slot that will have players sippin' moonshine on the porch of a modest shack while looking out over the green rolling fields. But it'll be rags to riches soon enough as this hillbilly themed game offers a top payout worth 5,000 coins. It also offers a random progressive jackpot that can be triggered at any time, and a free spin bonus feature.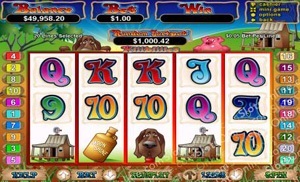 Check out our full Hillbillies review or start playing at Cherry Red Casino.
Moonshine
This online slot will see you square dancing the night away at one heck of a hootenanny with all of the locals. It's a 5 reel, 5-payline video slot that offers such bonus features as a wild, scatter, and a free spin feature in which wins can be multiplied up to four times. It holds a top payout worth 8,000 coins, meaning you can pick up a pretty penny by spinning these reels.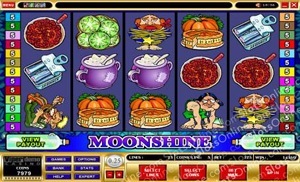 Check out our full Moonshine review or start playing at All Slots Casino.
Click here for a full list of online slots in order of theme